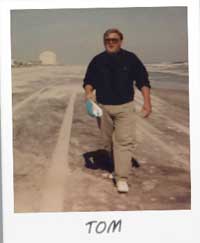 Support the Parkinson's Event for Tom Poehlmann
Tom was diagnosed with Parkinson's disease at age 47. After 6 years of fighting Parkinson's, Tom decided to go for Deep Brain Stimulation. With a much too speedy release from the hospital and one complication after another, at age 54, Tom lost his battle with the monster that invaded his body.
Our family decided to turn this tragedy into something positive. We want to help others so they can escape this horror. It also gives more purpose to someone so young who went through so much.
When Michael J. Fox announced that he had Parkinson's disease, he looked like Tom. The same symptoms were present including the expressionless face, the dyskinesia, and his story of denial. His foundation was exactly what we were praying for – Finding the cure in our lifetime. We trust the Michael J. Fox Foundation because it is a lean organization. Our money goes directly to science.
With hundreds in attendance, raffle ticket sales containing hundreds of dollars in area restaurant gift certificates, a silent auction, ticket sales and straight donations (all gifts and services are donated), we have managed to raise $350,000 in the last fourteenyears.
This will be our 17th benefit in memory of Tom Poehlmann on Sunday April 15, 2018. It will take place at Philadelphia Fraternal Order of Police Lodge #5, 11630 Caroline Rd. Philadelphia, Pa. 19154
Our goal is to be out of business and find a cure in our lifetime. Lastly we would like to thank everyone who has been involved with the benefit over the years, Family, Friends, Volunteers, and businesses. Without your tremendous support of this event it wouldn't be possible.
"Thank You! Josie, Tom, Chris, Brian and Zeffi Poehlmann ."